On October 5, 2021, Microsoft introduced to the world the new generation of Windows 11 which comes with so much Improved and needed upgrades to improve computing performance for users worldwide and even though the interface looks and feels different Microsoft made sure that Windows 11 remained usable and adaptable for users, I can guarantee you it won't take long to figure out how things work which is important,
For almost two years now we all have had to adapt and evolve to the new way of life and using and having access to technology has never been more critical.
Out of nowhere, the global pandemic accelerated digital transformation, and the one thing that's for sure is that things will never be as it was and hybrid work and learning are here to stay, and with all this new changes to the way we work, collaborate and learn meant that we also needed something that could keep up with the new pace, we needed an operating system that is able to be productive and secure from everywhere and everywhere.
And since I started at Microsoft, I have become the go-to person on things Microsoft which by the way I don't mind, but I thought I would create a 2 series blogpost on Windows 11 and how to check and see if you are eligible for the free update so here we GO.
So What's Exactly Changed?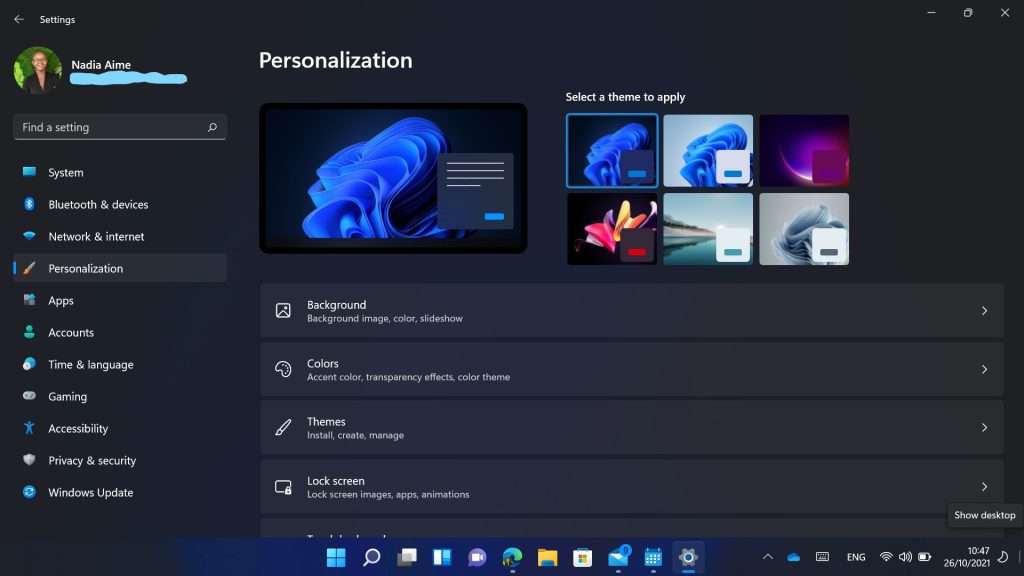 Let's talk about the most obvious which is the new sleek wallpaper which actually comes in five different versions for your desktop and lock screen background. Another thing to expect is the complete change from the old Windows 10 themes that we were so used too, well that's gone and in its place Windows 11 provides you with six new themes with different color schemes.
The Start Menu Has Also Changed
There has been a complete redesign to the Start Menu and app icons which are now centered which i find quite practical and it really changes from Windows 10 where it was aligned to the left, it's really the small things that make the most difference.
And to add to making our life a little easier you will find at the start menu you can actually pin your most-used apps on top to make it easier to access and launch them when needed, and you can get an overview of recent activities, such as the last opened photo, last installed apps, etc. Before on Windows 10, the search feature was attached to the Start Menu but with Windows 11 the search feature is now its own feature and present on the top as I said it's really the little things.
Improved Design For Windows APPs

The Windows apps have now rounded corners, and they actually float instead of being attached to the Taskbar like they used to be on Windows 10. Talking about the design, Windows 11 comes with completely redesigned icons they are actually fun and vibrant a complete change from the Windows 10 flat design.
Improved PRODUCTIVITY
If you are anything like me, am sure you find yourself often having several windows open throughout the day as you work, well Windows 11, comes with an improved way that lets you interact with your windows in an organized way— it helps you organize them, snap them to specific areas on the screen, group them together, and toggle back to those snap groups when you need them, or you can even create separate desktop sections and customize them to your liking, for example, I have a separate desktop for learning, personal and work, no more wasted time trying to find the right window. I don't like playing favorites, but I have to say It's one of my favorite features
Another awesome feature is to undock and re-dock which comes in handy as you move around throughout the day, Windows 11 remembers your snap groups, which is another time-saving feature that will keep you in the flow of work.
Then There's The Dark Mode
This is for all the Dark Mode fans. Dark Mode is now more colorful than ever. Also, the Windows 11 Start Menu is translucent, which means you get a hint of the background wallpaper shining through.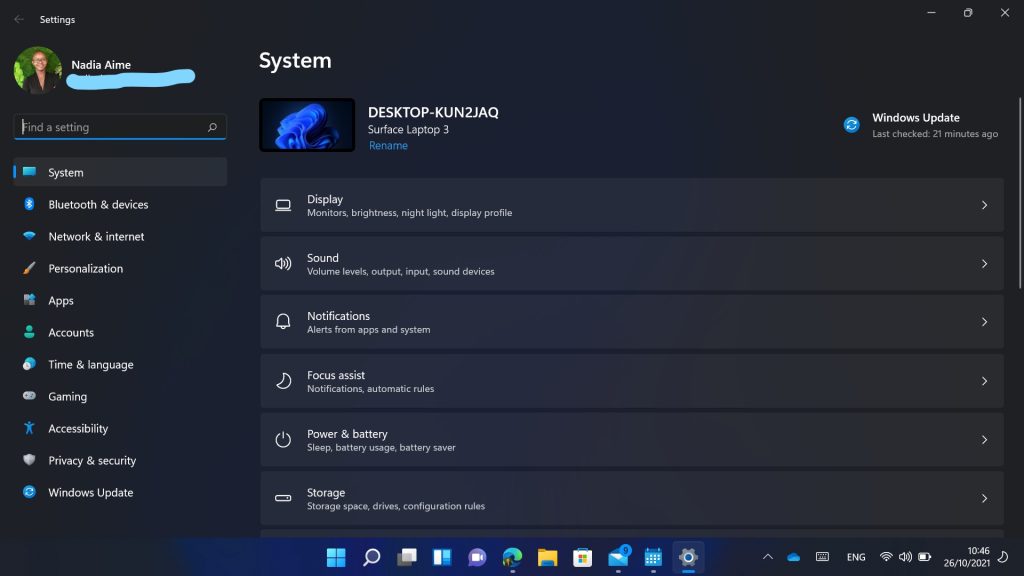 Never seen before feature Presence of Android Apps(Coming Soon)
Microsoft introduced for the first time ever support for Android applications, which can be downloaded through the app store. Keep in mind though that this feature is not immediately available for users.
Widgets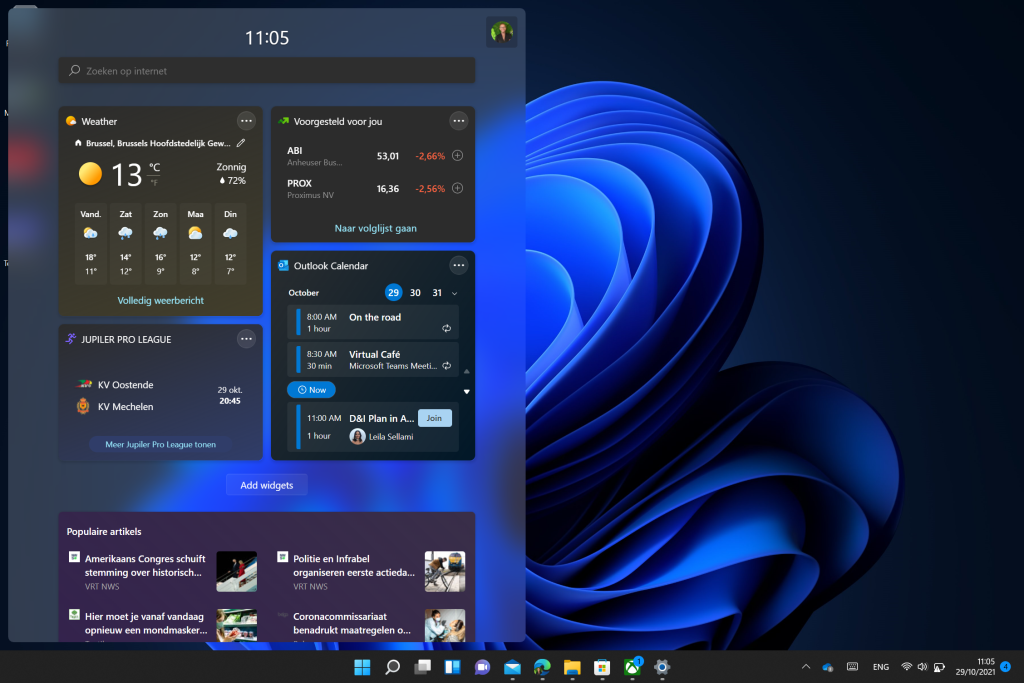 Windows 11 offers updated widgets that you can slide over and display calendar, weather, and recent photos etc…
Windows 11 Was Also Build For Gamers
I have never been a fan of PC gaming but when i heard that Microsoft as going to introduce cloud gaming i had to try it out, I must admit NOT BAD, and the great thing I found was that Microsoft integrated two great technologies from the Xbox console: Direct Storage, which will ensure that your game load time is faster and reduces latency, then there's the Auto HDR, which introduces more specific and more comprehensive display colors to improve visibility regardless of the game you are playing and talking about playing Windows 11 comes with a Xbox App integrated into it an if you are a Xbox Game Pass member you have access to games and one last point if you go to the settings app there is actually a dedicated gaming tab where you can easily switch to 'Game Mode' and what this does is it will automatically reduce all background app usage to free up CPU for your gaming experience.
Conclusion
Windows 11, comes with features that tick the right box and its the answer to this new world of where people are working from everywhere and anywhere, am really looking forward to the FUTURE how about you ?
Read part 2 of this blog series To Update or Not You Really Do Have a Choice